The Consumer Electronics Show is in full swing at Las Vegas and a lot of new cool things are being announced. One such product is a Handheld Home Theater from Belkin. It attaches to your Apple iPad as a case and gives it louder speakers.
Belkin is calling this new Handheld Home Theater case Thunderstorm, which is basically a slim sound-dock hidden in a case. It's pretty cool, because the whole thing attaches to your iPad and can be carried around with ease. Of course, your iPad will suddenly be heavier and thicker.
The Thunderstorm comes with dual front facing speakers that has special airflow ports to produce rich bass and depth. The speaker bezel is landscape oriented and it also comes with an Apple style foldable soft cover. The case also features a low-distortion and high-efficiency amplifier, that can be adjusted using the Thunderstorm app. Nate Kraft, director of product management at Belkin states:
"The iPad is known for its brilliant, high-definition display that enhances the video quality of your favorite movies, shows and video games, but the audio quality sometimes doesn't match the visual experience. With the Thunderstorm Handheld Home Theater we are looking to provide the immersive, powerful audio experience missing in the iPad, so you can listen to your content the way it was meant to be heard."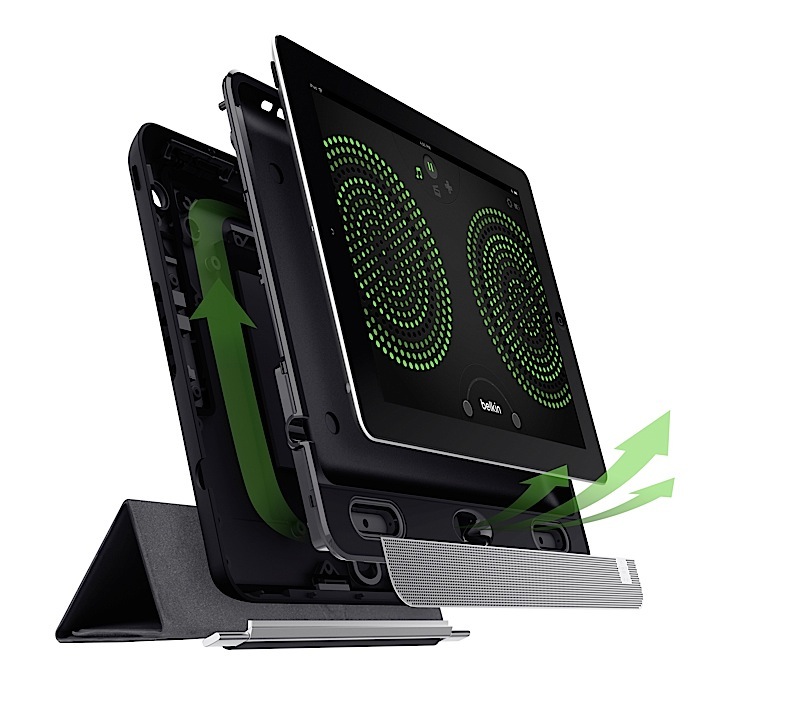 Belkin partnered with Audifi to design and build the Thunderstorm Handheld Home Theater. The case connects to your iPad using a 30-pin connector or Apple's new Lightning connector. All ports and switches on the iPad can be accessed without any trouble. You can purchase the 30-pin connector version later this month, but the Lightning version will be available sometime in Spring 2013. The Thunderstorm app will also be available in the App Store soon.
The Belkin Thunderstorm Handheld Home Theater for the iPad will cost you $200. It's a pretty cool looking and a one of a kind iPad case. Do you think you're getting one?