When Apple released the new Lightning connector for its line of iOS devices it became more strict with it's Made For iDevice (MFI) program. It implemented various security measures to make it hard for 3rd party accessory vendors to create non-certified accessories. Then with the release of iOS 7 beta it was discovered that if a non-certified accessory was plugged into a device running iOS 7, a dialog box would popup stating that it was an unauthorized accessory and that it may not work reliably.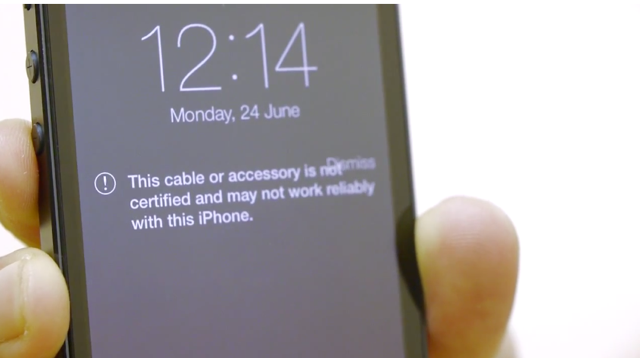 As I am sure you can guess, non-licensed 3rd party vendors weren't too pleased about this and as such they went to work cracking the Lightning cable to prevent this dialog from popping up. The first successful vendor to bypass the Lightning cable's security measures is iPhone5Mod — a Chinese firm that started offering lightning accessories last year.
The company posted a video this morning stating that they have successfully cracked the chips that bypass iOS 7 authentication functions and that they will begin implementing it in all of their new accessories. The company is even offering a money-back guarantee that its new cables will work with the final release of iOS 7.
There have been several other companies who have claimed to have bypassed the iOS 7 authentication functions, but a representative from iPhone5Mod has stated that often times alerts are still generated due to faulty bypass methods and that it's cables are the only ones that permanently bypass them.
You can learn more about the iOS 7 Lightning cables being offered by iPhone5Mod by clicking here. You will indeed find they are much cheaper than Apple's offering.