Thanksgiving is upon us and so are the amazing Black Friday and Cyber Monday deals. Apple is having a shopping event to celebrate Thanksgiving and is offering discounts on various Apple products and accessories.

Apple's shopping event will last only for a day, so make sure you take advantage of the deals while you can. The discounts that Apple offers is not a lot, but you might as well get something rather than nothing. The company never discounts its products, so this is kind of a big deal. Apple rolled out the deals in New Zealand and Australia yesterday and now customers in the United States and Canada can also enjoy them.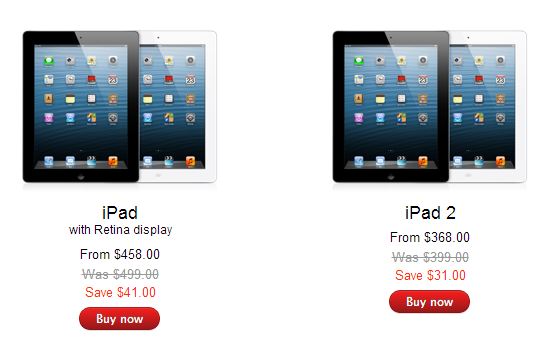 Almost all of Apple's products except the iPhones are available to purchase at a discounted price. The MacBooks get a discount of about $100 and the iPad with Retina display gets a discount of $41 (16GB). Below is a list of products that Apple is offering discounts on:
iPad with Retina Display – starting from $458
iPad 2 – starting from $368
iPod Touch 4th Gen – starting from $178
iPod Touch 5th Gen – starting from $268
iPod Nano – starting from $138
MacBook Pro with Retina Display – starting from $1598
MacBook Pro – starting from $1098
MacBook Air – starting from $898
AirPort Express Base Station – $88
AirPort Extreme Base Station – $158
Time Capsule – starting from $278
Magic Mouse, Magic TrackPad and Apple Wireless Keyboard – $58
iPad Smart Case – $34
iPad Smart Cover Polyurethane – $28
iPad Smart Cover Leather – $48
Apple in-ear headphones with Remote and Mic – $68
Apple Earpods with Remote and Mic – $22
Once again, these offers only last 24 hours, so be quick and get what you want. You can also buy all the above products for a discount through Apple retail stores. Head over to the Apple Store to avail these offers now.