Nowadays, most people have more than just one device to charge. But cords get tangled, power strips get overcrowded, and USB ports get used up quickly.
Streamline your charging with the 3-in-1 Lightning/30-Pin/Micro USB to USB Charging Cable!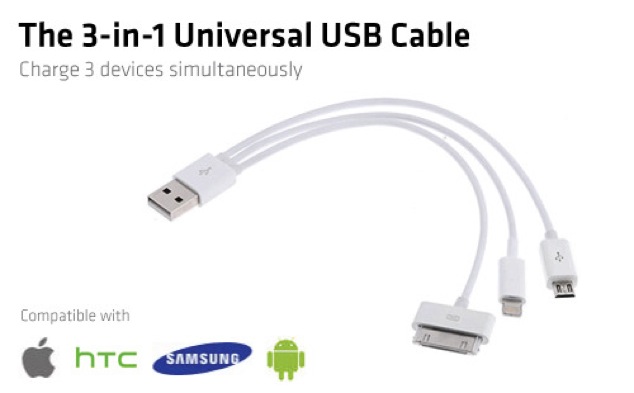 This handy cable can charge 3 devices simultaneously. Whether you need to juice up an iPhone 5, iPhone 4/4S, 3G/3GS, iPad, iPod, Android, HTC, Samsung, or whatever else, this cable has you covered!
It couldn't be easier to use – just connect it to your device and charge.
It's 2013 and wireless is the way to go. Unfortunately a majority of our favorite gadgets still require a cable to charge up. The 3-in-1 Charging cable is essentially the only cable you will need to keep handy. This cable has also been optimized to avoid tangling and the short modern length makes it simple to stow away to keep your space clean and organized.
Usually this 3-in-1 USB charging cable retails for just under $60, but for a limited time iJailbreak is able to offer it for only $19. That is a whopping 67% discount off its retail price! Click the button shown below for more information.
P.S. You also get FREE shipping to the United States, Canada, Germany, France, UK, Italy, Spain, Netherlands, Belgium, Switzerland, Australia, South Africa, Japan, South Korea, and Singapore.